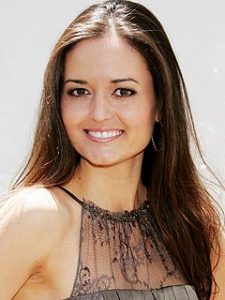 Hollywood star Danica McKellar started her career at a young age. At age 10, she debuted in an episode of The Twilight Zone. She later gained mainstream prominence for starring as Winnie Cooper in the ABC series The Wonder Years. She played the said role between 1988 and 1993. In the 1990s, she also starred in the TV films Camp Cucamonga, Moment of Truth: Cradle of Conspiracy, and Justice for Annie: A Moment of Truth Movie.
During this period, she made her cinematic debut in the 1992 film Sidekicks. In the 2000s, she continued her career on TV, playing Elsie Snuffin in The West Wing. Later, she had recurring roles in Game Over and Inspector Mom. She simultaneously had performances in the films Good Neighbor, XCU: Extreme Close Up, Jane White Is Sick & Twisted, Raising Genius, Hack!, Heatstroke, and 21 and a Wake-Up.
In the 2010s, she became more active in voice acting. She stars as Miss Martian in the animated series Young Justice. In 2014, she was a contestant on Dancing with the Stars for Season 18 where she finished in the sixth place. As of 2015, she plays The Quail in the Netflix series Project Mc2. In the movies, her latest work was in 2018's The Fiddling Horse.
The 44-year-old actress takes care of her body through a clean diet plan. In an interview, she revealed how disciplined she is when it comes to her eating habits. "I don't eat gluten, I don't eat dairy, I don't eat sugar, really, and the only thing I drink is water…. I eat really, really clean. I'm very strict," said the actress.
While there's plenty of foods she avoids for the sake of her health, she explained she doesn't necessarily deprive herself because she still eats a lot. "I eat a lot of food, but it's all brown rice and vegetables and lean meats and things like that," explained McKellar.