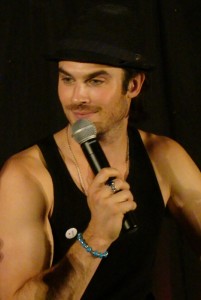 Television heartthrob Ian Somerhalder is already in his late 30s but his youthful looks can really fool anyone. Starting his career more prominently in the 2000s, thanks to his starring role in Young Americans, which went on to become short-lived, Ian continued acting on television as a guest star all throughout the early to mid 2000s with his first notable character in Smallville. Mainstream success came in 2004 after winning a main role in Lost. Even though he was the first character to die in the series, it gave him the recognition he needed. Right now, he's widely known for his charismatic portrayal of Damon in The Vampire Diaries. He's also acted on the big screen with roles in Pulse, The Tournament, and most recently, The Anomaly (2014).
Even at only around 5'10, Ian is very masculine with his fiercely handsome face and lean body. Because the show he's currently in is a popular one, the actor has since become a household name. Unlike other actors, Ian has a more average-looking type of physique but it is apparent how fit he is, too. With a combination of a healthy diet and vigorous workout routine, looking this good and healthy is not impossible. Interestingly, Ian values his sleep in addition to working out and drinking lots of water. He believes that doing all three will make amazing results.
Furthermore, the actor is an avid fan of hitting the gym. Working with a personal trainer, he practices the workout strategy known as the Prison Workout. This mainly consists of burpees, push ups, pull ups, body planks, squats and death jumps. It can also be noted that Ian makes sure his workout sessions are just sufficient to provide him the muscles that his body needs. Of course, it would look weird if he tries to gain much muscle considering his frame. That means he's being reasonable with his exercises and other physical activities he engages himself into. He wants to gain muscles that's just proportional to his body, which, of course, is the right thing to do.