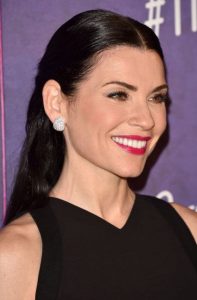 Hollywood star Julianna Margulies is an acclaimed actress. She had her career beginnings in 1991 when she made her film debut in Out for Justice. She has since appeared in a couple of other movies during that period. At the same time, she landed her breakout role as Nurse Carol Hathaway on ER. Her performance her won her a Primetime Emmy Award for Outstanding Supporting Actress in a Drama Series in 1995. After this, she played the lead on the short-lived program The Grid. She returned to mainstream attention after landing the lead of Alicia Florrick on the acclaimed series The Good Wife. For her work here, she won a Primetime Emmy Award for Outstanding Lead Actress in a Drama Series twice in 2011 and 2014. She's also recently starred in the films Stand Up Guys and Three Christs.
The actress is already in her 50s, but it's obvious how radiant she manages to look. She's also able to maintain her slender and toned figure despite aging. This is because she takes care not only of her body, but of her health in general. Julianna also believes in the importance of moderation when it comes to her eating habits. In an interview, she said:
"I don't do a lot of sugar and alcohol, but I do have some. A little bit of everything, once in a while, is OK. It helps take the edge off, but you have to know when to have it and how much to have. One thing I do feel strongly about is portion control—I think it's one of the biggest problems we have in this country."
When asked about her beauty and health secrets, she said: "When I drink hot water with lemon, my skin looks better." She added: "Foods like salmon, avocado and olive oil are what I call 'glow foods.' They are so good for your skin. And I always have some almonds in my bag." The actress shared how she's obsessed to having a healthy skin. That's why she mostly eat foods that are good for them.