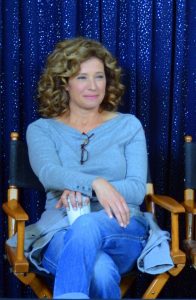 American actress Nancy Travis got her performing start on off-Broadway. Soon, she also began a career on the screen. She made her debut in the 1985 TV film Malice in Wonderland. Her breakout role was as Sylvia Bennington in the 1987 film Three Men and a Baby. In the 1990s, she starred in the films Internal Affairs, Chaplin, and The Vanishing. She also reprised her role as Sylvia in Three Men and a Little Lady.
She also became known for starring as Kim Cooper in the series Almost Perfect. In the 2000s, she starred in the shows Becker and The Bill Engvall Show. She also had notable roles in the movies The Sisterhood of the Traveling Pants and The Jane Austen Book Club. In the 2010s, she is best known for her role as Vanessa Baxter in the series Last Man Standing. This year, she started playing the role of Lisa in the new series The Kominsky Method.
The 56-year-old actress continues to do prolific work on the screen despite her age. With this, she also continues her active and healthy lifestyle that includes working out and doing more outdoor activities. She acknowledges the importance of keeping the body mobile, especially as one grows older. While it can be tough to motivate oneself in exercising on a regular basis, the actress knows she has to work out simply because it makes her feel great. For her role in Last Man Standing, the actress revealed that she hired a trainer to help her get in shape for the show.
"I enjoy hiking and love nature. But I [also] work my [butt] off. I run, I jog and just hired a trainer to get me in shape for the show," she said. She went on to say: "I try to [work out on my own]. As an actress on camera, it's all there [for people to see]. I need to pay special attention to [fitness] – it's part of my job."