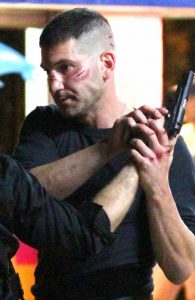 Jon Bernthal was already a prolific actor before the world came to know him as Shane on The Walking Dead. Prior to this, he starred on the TV shows The Class, Eastwick, and acted in the films World Trade Center, Day Zero, Night at the Museum: Battle of the Smithsonian, The Ghost Writer, and Snitch. Suffice to say, he was already doing good in Hollywood. But things got better when he joined the main cast of The Walking Dead, playing the tough leader Shane Walsh in seasons 1-2. His character is one of the original characters on the show. His role on The Walking Dead led him to land roles in well-known big screen projects, most notably The Wolf of Wall Street and Fury. He then became further known when he portrayed Frank Castle / Punisher on the Netflix series Daredevil.
Looking at the actor, it is apparent how muscularly lean his body is. He's one of those men in Hollywood who look very masculine without even trying. His manly appeal is intrinsic and how he's built looks like his natural built. But even if this is the case, the actor doesn't stay complacent especially when it comes to health and fitness. Mostly playing action-oriented roles, Jon knows that it's part of his job to be fit, strong, and be overall healthy.
Surprisingly, Jon doesn't follow any special workout routine. He just practices typical training sessions to make sure he keeps his strength and keeps in shape as well. In an interview, the actor shared how he just tries to do a bit of weightlifting whenever he can. He's not pressured into doing it more regularly because that defies the purpose of exercising in the first place. Aside from a little weightlifting, he also makes sure he does cardio exercises, which he does more often. In addition, Jon tries to box about six times in a week.