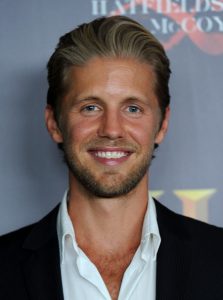 Hollywood actor Matt Barr had his career beginnings in 2003, debuting in the independent film Levelland. The following year, he made one-time roles in such television shows as ER and CSI: Miami. His first starring role was as Brandon Vandecamp in the straight-to-video film American Pie Presents: Band Camp. At the same time, he landed guest roles in the TV programs Medium, American Dreams, Over There, and Head Cases.
His first recurring role on the small screen was as Mike Fleming in the TV drama Commander in Chief. His first ever notable role was as Ian "Psycho Derek" Banks in One Tree Hill, playing the character recurrently from 2006 to 2007. After this, he starred as Christopher "Sully" Sullivan in the miniseries Harper's Island. During this period, Barr starred in the television movie Jesse Stone: Death in Paradise, as well as acted in the films Ten Inch Hero, Protecting the King, and The House Bunny.
In 2008, he portrayed reality star David "Puck" Rainey in the film Pedro. After guest appearances in Trauma and Friday Night Lights, he became known for his role as Dan Patch in the short-lived series Hellcats. Following this, he played Johnson "Johnse" Hatfield in the miniseries Hatfields & McCoys. He went on to star as Nick Hawley in Sleepy Hollow and Captain Leland Gallo in Valor. As of 2019, he stars as Danny McNamara in the CBS series Blood & Treasure. In the movies, his most recent work was in 2017's The Layover.
For his role in Valor, Matt Barr increased the intensity of his workout routine without hiring a trainer. Instead, he came up with what he called the Rocky Balboa fitness regimen which he performed thrice a week. This regimen was a full-body workout which consisted of pullups, dips, and burpees. "The greatest equipment God ever gave us was gravity," said the actor about his bodyweight conditioning routine.