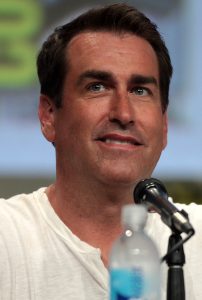 Hollywood comedic actor Rob Riggle started working in entertainment in 1998. His first television gig was in Late Night with Conan O'Brien. He also appeared in Upright Citizens Brigade at the same time. Later in 2003, he made his film debut in Pushing Tom, after which he appeared in 3 episodes of Straight Plan for the Gay Man. Riggle then joined the main cast of Saturday Night Live in 2004, staying until the following year. Afterward, he appeared as correspondent in The Daily Show from 2006 to 2008.
During this period, Riggle also had performances in the films Talladega Nights: The Ballad of Ricky Bobby, Blackballed: The Bobby Dukes Story, Step Brothers, The Goods: Live Hard, Sell Hard, and The Hangover. In the 2010s, he appeared in several episodes of Funny or Die Presents. He later starred in the movies Going the Distance, The Other Guys, Larry Crowne, 21 Jump Street, The Internship, and Dumb and Dumber To. In 2015, he played Frank West in Dead Rising: Watchtower.
He also continued his work on the small screen, mostly in comedy shows. He played President of the Navy in NTSF:SD:SUV::, Kevin in Wilfred, and Big Schmidt in New Girl. He went on to play Detective Zachary Fontaine in Angie Tribeca and appeared in 10 episodes of the reality series Holey Moley. In 2018, Riggle also starred as Colonel Max Bowers in the war drama film 12 Strong. He has starring roles in the upcoming films The War with Grandpa and The Ark and the Aardvark.
A major part of Rob Riggle's workout routine is running. A former US Marine Corps, physical training is nothing new to him. "I joined the Marine Corps when I was 19 years old, and running three miles was part of our required fitness test. That's when I started taking running seriously, because it was literally a job requirement," said the actor.