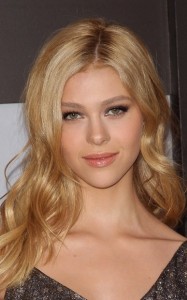 American actress Nicola Peltz started her acting career when she was 11, making her debut in the movie Deck the Halls released in 2006. Her next acting stint came two years later still on the big screen with a few more roles. Around this time, she also appeared in a music video. It was in 2010 that she first gained recognition after playing a starring role in The Last Airbender. She was 15 at the time. Her next role came in 2012 in a low-budget movie. She then began her television career the following year after landing a role in Bates Motel, appearing in 14 episodes until 2015. Prior to this, she was already getting mainstream recognition courtesy of her starring role in Transformers: Age of Extinction in 2014. She also starred in Affluenza that same year. She will star in the upcoming feature Youth in Oregon.
Standing at 5'5 ½, the 21-year-old actress is now considered as one of the hottest young actresses. Puberty really worked greatly on her, making her more attractive than ever. This was particularly showcased when she starred in the latest Transformers movie. One interesting thing about Nicola is she comes from a very wealthy family, so we now know for sure that she's acting because she loves it and not for the money. Also, fans want to know how the actress stays fit and healthy. Sure, she's young so her metabolism is pretty quick but is that all?
For sure, her incredible figure is also being attributed to how she takes care of herself, that is working out and healthy eating. Though she only in her early 20s, the actress is conscious with what she eats. She also practices portion control to make sure she doesn't eat a lot. Her regular diet mainly consists of fish for proteins and wild rice for carbs. In addition, she incorporates oregano and rosemary to her meals for its health benefits. For snack, she has unsalted nuts and drinks three liters of water everyday.