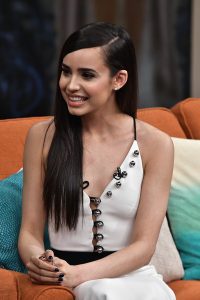 Hollywood star Sofia Carson started her career in 2014. Initially, she made one-time roles in the television shows Austin & Ally and Faking It. The following year, she gained notice for her role as Evie in the made-for-television movie Descendants. She reprised her role with voice in the animated series Descendants: Wicked World.
Afterward, she appeared as herself in 3 episodes of Soy Luna and Walk the Prank. She also had a role in the TV film Adventures in Babysitting. In 2016, she made her cinematic debut in the Spanish-Italian feature Tini: The Movie. She then played the female lead in the direct-to-video film A Cinderella Story: If the Shoe Fits.
The following year, she reprised her role as Evie in Descendants 2, as well as made a voice role in an episode of Spider-Man. In 2018, she played the recurring role of Sloane in the Freeform series Famous in Love. She gained wider recognition this year for starring as Ava Jalali in Pretty Little Liars: The Perfectionists. She will play Evie again in the upcoming TV film Descendants 3.
The young actress is naturally thin but she still takes care of her health by moderation. She doesn't follow any special diets nor does she deprive herself of food to stay slim. She actually just eats whatever she wants. She's just careful not to binge-eat. Also, she tries to stay away from processed foods as much as she could. With her Colombian ancestry and being raised in the US, she has a diverse taste in food.
"We were raised eating mac and cheese and popcorn, but also, deditos de queso, empanadas, arroz con pollo and listening to boleros, or reggaeton," said the actress-singer. When she's busy working, she likes to bring healthy snacks with her, like almonds, blueberries, and protein bars so that she doesn't get hungry often.