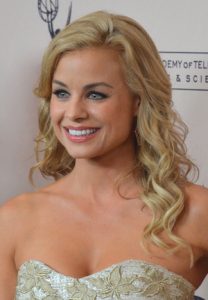 Jessica Collins has been working in Hollywood since the early 1990s. Her first acting part Dinah Lee Mayberry Alden in the soap opera Loving. She also reprised the role in another soap opera, All My Children. In 1996, she made her film debut in the straight-to-DVD film Leprechaun 4: In Space. She also starred in another straight-to-DVD movie Best of the Best 4: Without Warning. The rest of the 1990s saw her play one-time roles in several shows.
Diagnosis: Murder, Star Trek: Voyager, and Dawson's Creek. She also played Jody Carlisle in 3 episodes of Beverly Hills, 90210. In the 2000s, she played recurring character Colleen in American Dreams. After this, she starred as Meredith Davies in the television series Tru Calling. During this period, Collins also had performances in the films Beautiful, Ritual, Catch Me If You Can, Dirty Love, and Live!
She also starred as Marla in the short-lived series Big Shots. Later in the 2010s, she appeared as Jackie Denardo in some episodes of Memphis Beat. She also starred in the feature film Open House. Then from 2011 to 2015, she came to prominence for starring as Avery Bailey Clark in the soap opera The Young and the Restless. After her role in the show ended, Collins had guest appearances in 9-1-1 and Grey's Anatomy. She is set to star in the upcoming miniseries Clickbait.
Jessica Collins keeps her diet plan simple but healthy. She avoids processed foods and anything that's loaded in sodium, sugar and fat, so fast food is out of the question for her. Motherhood has also encouraged her to be more mindful of her eating habits. When she was breastfeeding, she had to remove anything unhealthy from her diet.
"I'm breastfeeding, so I had to do it the right way. I couldn't do my regular wine and ice cubes diet!" the actress joked. "I had to eat healthy and exercise. I've been doing that a lot, and Jemma's dad lets me run off to exercise for an hour a day, and I'm eating really well. But I had to be smart about it, because I've been breastfeeding, so I couldn't do anything crazy."