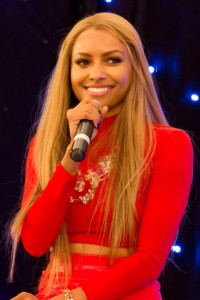 Swiss-born American celebrity Kat Graham began her entertainment journey as a commercial actress at age six. During her mid teens, the course of her career changed after being noticed as a dancer. She later worked as a background dancer for high-profile artists like Missy Elliott, Pharrell, Jamie Foxx. She also worked as a choreographer afterwards. As a movie actress, she had initially started acting in 1998 with the movie The Parent Trap as her feature film debut. After a few more roles, she landed a role in the film 17 Again released in 2009. That same time, she began getting recognition after playing a starring role in The Vampire Diaries. The show still airs up to now. Simultaneously, she acted in the direct-to-video movie Honey 2 in 2011 and the feature film Addicted released in 2014.
Now a household name courtesy of her admirable role in The Vampire Diaries, Kat has gone from being on the background to stealing the show with her talents and fierceness. Standing at 5'2, the petite actress has a notably slender figure that she probably got from dancing professionally. That and her healthy eating habits. Kat doesn't eat anything she wants. She sets limits to the portion of her meals and mostly consumes fruits, vegetables, lean meat, salmon, green smoothies, soy milk, Greek yogurt, and blueberries to keep herself full, hydrated, healthy and fit.
However, the television actress also admits to having a weakness to sweets. In fact, she prefers sweets rather than salty foods. Despite this, she's highly conscious of the effects of sugar on her body, so keeps her sugar consumption low. She typically has apple pies, cheesecakes, and strawberry flavored ice cream for dessert, though she doesn't have them often because she's being careful. She only eats them because she doesn't want to deprive herself of her cravings because that usually triggers binge-eating, which causes someone to gain much weight.