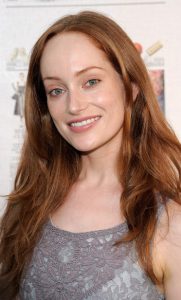 Dutch actress Lotte Verbeek had her career beginnings in the mid-2000s. She made her debut in the Dutch series Moes. She next played the lead in the Dutch movie LEFT (Links). In 2009, she got noticed for her lead role in the Dutch-Irish film Nothing Personal. Her career flourished in the 2010s, first becoming known for her role as Giulia Farnese in the Showtime series The Borgias. She played the said role from 2011 to 2013.
After its cancellation, she was cast as Geillis Duncan in the Starz series Outlander. She has been playing the said character since 2014. At the same time, she also had roles in the Hollywood films The Fault in Our Stars and The Last Witch Hunter. She went on to play Ana Jarvis in an episode of Agent Carter and Katarina Rostova in an episode of The Blacklist. This year, she also made a guest appearance in an episode of the new series Counterpart.
Thanks to her portrayal of Geillis Duncan in the hit series Outlander, Lotte Verbeek is more popular than ever. The 36-year-old actress also watches her figure by eating right and sticking to an active lifestyle. From when she was young, she trained in dancing and ultimately became a professional one. This, of course, helps her to stay in shape. She started her dance training in 1999 and she even worked as a dancer and model for a noted photographer.
On her Twitter, the actress answered questions from fans. One fan complimented her figure and asked how she stays in shape. Lotte responded: "Once a dancer always a dancer they say." Aside from this, the actress also performs basic exercises to be stronger and fitter. She enjoys cardio such as running. Even simple activities like walking and climbing the stairs when doing errands also count as a workout for her.