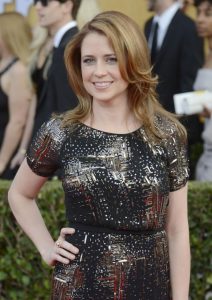 Hollywood star Jenna Fischer had her career beginnings in the late '90s. She became more active the following decade. During this period, she guest-starred on many television shows. She also appeared in the films Employee of the Month, Slither, and Blades of Glory. She even ventured into writing and directing with the movie LolliLove.
She got her break after securing the role of Pam Beesly in the comedy series The Office. While on the show, she also worked in the films Walk Hard: The Dewey Cox Story, The Promotion, and Hall Pass, among others. After The Office ended in 2013, she starred in the short-lived series You, Me and the Apocalypse. This year, she will star in the upcoming sitcom Splitting Up Together. She's also had roles in the movies Kiss Me and Brad's Status.
The 43-year-old actress stays in shape by sticking to a healthy eating habit. Most of the time, she's conscious of what she eats. For one, she avoids eating processed and junk foods. She avoids foods high in sugar and sodium. She prefers eating natural, whole foods. Talking about her choice to eat preservative-free foods, she said: "I spent two weeks in France last summer. I ate everything and came back two pounds lighter. Someone told me it's because of all the fresh food I had while I was there. So now I try to eat preservative-free."
Talking about her favorite food, she said: "Sushi. It's healthy, so I let myself have it once or twice a week." Overall, she makes sure that her diet is clean and healthy. Even though she misses some gym time because of her schedule, she still keeps her body fit and healthy by sticking to a nutritious diet. She also doesn't allow herself to focus on her insecurities. For her, eating healthy is something that she does for her health and well-being.