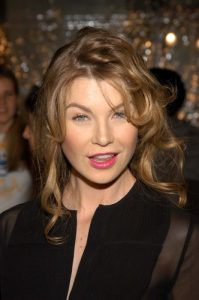 Hollywood star Ellen Pompeo had her career beginnings in the mid '90s. During this period she acted in a few short films and television shows. She made her first movie appearance in 1999's Coming Soon with a small role. In the early 2000s, she had notable roles in the movies Moonlight Mile and Catch Me If You Can. She also played Karen Page in Daredevil. Her major breakthrough, however, was as Dr. Meredith Grey on the long-running medical drama series Grey's Anatomy. She's been playing the show's lead since 2005. Her last role in a movie was 2005's Life of the Party.
Standing at 5'7, the mother of three children remains slim and healthy by following a healthy lifestyle. Aside from opting nutritious meals most of the time, she also lives an active life, which includes regular workouts. Being in the acting industry, Ellen has always faced intrigue with regards her slender physique. There are reports suggesting that the actress is strict in her diet to the point of starving herself. However, Ellen insists she does not partake in such unhealthy ways. During her pregnancy though, the Grey's Anatomy star was able to put on some weight.
She said in an interview:"I went up a pants size during my pregnancy. I was in size 25 jeans and went to 26. I gained 26 pounds. Now, after the baby, I weigh 10 pounds more than I ever have. I love it, because everyone always told me I was too skinny before, and I thought, Oh, God, what if there are 14-year-olds who think I'm not eating, and then they don't eat? Do I have a responsibility? But really, I don't care if people think I'm too skinny." The actress also became more involved in fitness after giving birth. For toning her stomach after having her first baby, she utilized an intense core workout. She also worked with celebrity trainer Gregg Miele. She reportedly toned her abs with the use of stability ball and performed plank ups (planks and sit-ups) as well.