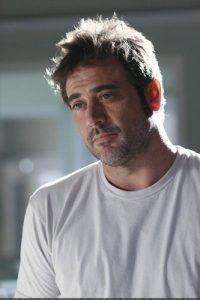 Jeffrey Dean Morgan is an American actor who's been acting on both television and big screen for ages, though he's more prolific on television. On the small screen, he's best known for playing Dean and Sam Winchester's father on the long-running series Supernatural. He then became widely known for his acclaimed performance when he played a recurring character on the television series Grey's Anatomy, garnering him further success as a television actor. This, of course, helped him expand his career on the big screen, landing him starring roles in such feature films as Watchmen and The Losers. He recently returned to mainstream television as the antagonist Negan on The Walking Dead.
The actor may be nearing his 50s, but it surely is not the case when it comes to his physical looks. Not only does he look good, he also looks totally fit, someone that can still kick ass despite his age. This is the reason why he always lands roles requiring actors with strong physique and robust presence on the screen. For this reason, you'd wonder what the actor's secrets are in maintaining his healthy physique. Truth is, he doesn't have secrets. Just a healthy lifestyle. Aside from engaging in various workout routines, Jeffrey Dean also believes in the miracles of healthy eating. Though it may seem less masculine-looking to choose clean and healthy foods, the actor still does because he knows that accumulation of junk foods in his body would take its toll.
Basically, he avoids fast food and other processed foods. Due to the long hours he spend on working on different sets, the actor makes it a point to consume good carbs, proteins, and other vitamins to ensure he has the energy. He always have a healthy breakfast which typically consists of eggs, wheat, and fruits. For lunch, he has chicken or fish as his source of proteins, same for dinner. In between meals, he consumes sandwiches, fruits, and nuts to avoid getting hungry. Of course, being a man, he also indulges in some wine and beer occasionally, as well as tasty foods like pizza and hamburgers.