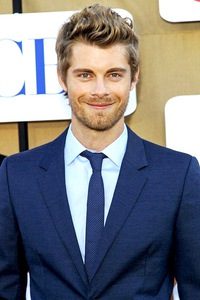 Australian actor Luke Mitchell had his career start in the late 2000s. He made his film debut with a starring role in Performance Anxiety. His first TV appearance was as Chris Knight in the Australian soap opera Neighbours. Afterward, he starred as Will Benjamin in the show H2O: Just Add Water. He later became known for his role as Romeo Smith in the long-running Aussie soap Home and Away. Following this, he ventured a career in Hollywood.
He successfully got the role of John Young in the American series The Tomorrow People. He next starred in his first Hollywood film in 7 Minutes. He later played Lincoln Campbell in the ABC series Agents of S.H.I.E.L.D., joining the main cast in season 3. After this, he starred in the movie Mothers and Daughters. As of 2016, he plays the role of Roman in the NBC series Blindspot.
The Aussie actor stays in shape in his buff physique by basically living a healthy life. He follows a regular workout routine and his lifestyle, in general, is also pretty active. He grew up surfing and he trained to be a football player before he became an actor, so he really had an active life even before his acting career took off. When it comes to staying ripped, he believes consistency is key, so he works out on a regular basis.
"Rebecca (his wife) and I go to LA Fitness together. I've done my fair share of running from tennis, so I lift weights and do the stationary bike. Staying healthy has become part of my career path," he said. He also loves nature so he's also into outdoor fun activities. Even with his busy acting career, he still plays sports. He said: "I still play tennis. My brother is a professional tennis player, and he gives me extra rackets people send him. But in 2013 I had to learn football for a role, and now I love playing touch football on the beach in Santa Monica."