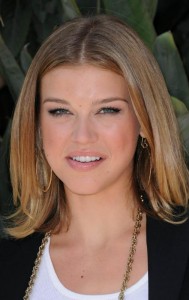 American actress Adrianne Palicki only started her acting career when she was in her 20s, trying her luck on television at first. Her initial experiences include one-episode roles in a couple of TV shows with her first notable role coming in 2005 as Sam Winchester's girlfriend in Supernatural. Though she was killed off on the show, her character has since become important to that of the protagonists. This exposure led her to be cast in a main role in Friday Night Lights, which rose her to stardom. She continued her prolific work on TV and now stars in Agents of S.H.I.E.L.D.. She's also on her way of establishing her name as a movie star, acting in some well-known films, such as G.I. Joe: Retaliation and John Wick.
The 5'11 actress got the role of Wonder Woman for a show that never aired, still it highly shows how physically fit and talented she really is to secure such coveted role. It can also be noted that in the recent years, she's busying herself with playing strong female characters involving kick-ass action scenes. How does the beautiful actress stay in shape for such challenge? Aside from involving herself to a more rigorous workout routine, Adrianne also made sure she balances everything out through healthy eating.
Because the actress suffers from celiac disease, the athletic star is more cautious when it comes to her meals. With this, she mostly eats gluten-free foods. She does not eat such foods as wheat flour, rye, pancakes, pasta, and bread. She instead consumes lots of green veggies, which keeps her not only vibrant but also energetic. Another benefit to sticking to a gluten-free diet is that it helps her lose weight. Generally, she makes sure she consumes protein, carbs, and healthy fats to her diet to maintain a healthy and a fit body.