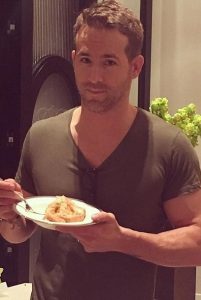 Canadian actor Ryan Reynolds first became popular as a comedic actor, starring on the sitcom Two Guys and a Girl when he was in his early 20s. He also portrayed the title role in the comedy film National Lampoon's Van Wilder. Soon, he went to being an action figure with his role in Blade: Trinity and then in the horror film The Amityville Horror. He has starred in the superhero films X-Men Origins: Wolverine and Green Lantern, though he still acted in romantic comedies, too, such as in Just Friends and The Proposal. He has also starred in some action thrillers like Buried, Safe House, The Captive, and Mississippi Grind before he made it bigger with his portrayal of the title character in Deadpool.
Though he started out in Hollywood as a comedic guy with an average body, Ryan has since developed his physique into a masculine one, starting when he played Hannibal King in Blade: Trinity. Since then, he has showcased his buff figure on the screen. Though it can be credited to his workout routine, a fit body like his cannot be achieved without the practice of a healthy and clean diet. For his part, Ryan is disciplined enough to impose a nutritious dietary regimen to make sure he stays fit and healthy. According to the actor himself, he lived like a frat boy when he was in his 20s, drinking and eating whatever he wants.
His casting in Blade changed his unhealthy ways as he soon started following a a 3,200-calorie daily diet that made him gain 25 pounds of muscle. His physical development is also attributed to his rise in Hollywood as he was able to go outside comedy and be taken more seriously as a versatile actor. For Blade, his diet consisted of eating between 6 and 8 meals a day, every 2 hours, with a lot of protein and complex carbohydrates. He strictly stayed away from carbs after 8 pm, just protein, which he got from eggs, chicken, steak, protein bars, and protein shakes. On the other hand, he got his carbs from eating oatmeal without sugar.