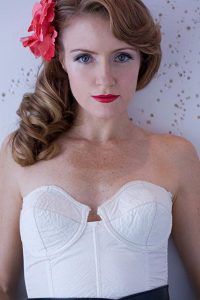 Australian-born actress Helene Joy played the role of Agnes Windsor on the Aussie drama The Man from Snowy River. This marked her TV debut. Afterward, she appeared in two episodes of Water Rats, as well as starred in the short film The Beneficiary. She went on to make one-times on a couple of Aussie shows before pursuing an acting career in Canada and the US.
She first landed guest roles on the Canadian shows, including First Wave, The Outer Limits, and Andromeda, among others. She also appeared on the American shows Night Visions, The Chris Isaak Show, and The Twilight Zone. She later landed her first starring role on the small screen — as Judy Surgick on the Canadian sitcom An American in Canada. Later in 2005, she appeared in the films Desolation Sound and Feed. Subsequently, she successfully got the role of Audrey Sweeney on the TV show Durham County.
She also starred on the short-lived series MVP. It was, however, her role as Dr. Julia Ogden on Murdoch Mysteries, a role she's been playing since 2008, that's gained her prominence. From 2009 to 2010, she also played recurring character Opal on Pearlie. Back on film, her latest movie role was in 2016's Sadie's Last Days on Earth. Joy is also a voice actor who starred as Victoria on the animated series Detentionaire.
Not only does the actress watch what she eats to maintain her toned figure, but she also follows an active lifestyle. Keeping her body fit and strong is crucial, that's why the celebrity makes sure she exercises on a regular basis. When it becomes super busy, she makes up for it by doing the basics, like taking walks, using the stairs instead of elevators or running errands. She also got candid about her workout routine in an interview. "I do Crossfit, and yoga, and running. I think that those things are probably more important to beauty than anything else," the actress said.