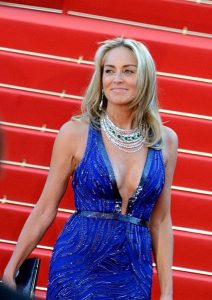 It was in the 1980s that Sharon Stone got her start in the acting business. Starting out with uncredited roles, she had her first credited one in the 1981 film Deadly Blessing. Her first mainstream role was as Claire Mattson in 1987's Police Academy 4: Citizens on Patrol. She later starred in the films Cold Steel, Above the Law, and Beyond the Stars. The following decade proved to be career-changing for her.
She first starred alongside Arnold Schwarzenegger in 1990's Total Recall and had her breakout role as Catherine Tramell in Basic Instinct. For her performance, she was nominated for the Best Actress Award at the Golden Globes. This propagated her career with starring roles in The Quick and the Dead and The Specialist. She was then acclaimed for her role as Ginger McKenna in Casino. Starring opposite Robert De Niro, she won a Golden Globe for Best Actress and got her first Academy Award nomination for the same category.
She has since received more Golden Globe nominations for her works in The Mighty and The Muse. In the 2000s, she starred in Cold Creek Manor, Catwoman, Alpha Dog, and reprised her role as Catherine in Basic Instinct 2. Moreover, her guest role as Sheila Carlisle in The Practice got her a Primetime Emmy nomination.
Apart from her diet plan, Sharon Stone maintains a slender physique even in her 60s through exercise. "I work for it. I work at everything. To me, discipline is a kind of freedom," said Stone. "Every time I exercise, I do something different based on which areas need to get in motion." She said she works out at 24-Hour Fitness 4-5 times per week. As for her workout routine, she combines Pilates, complete body stretches, strength training, yoga, and dance.