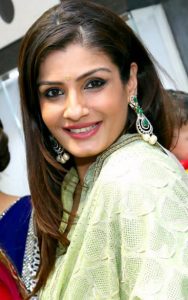 Bollywood star Raveena Tandon started her cinematic journey during the '90s. Her first acting role was in the 1991 Hindi movie Patthar Ke Phool. This proved to be a strong debut for her since she won the Filmfare Award for Lux New Face of the Year. Afterward, she starred in the feature films Mohra, Dilwale, and Laadla, which became blockbuster hits. She went on to collaborate with Shahrukh Khan for the first time in the film in Zamaana Deewana. Tandon then starred in such movies as Khiladiyon Ka Khiladi, Ghulam-E-Mustafa, and Ziddi.
The actress ventured in Kannada cinema as well, for which she starred in the film psychological thriller film Upendra. Her work in the movie in Aks ultimately got her the Filmfare Special Performance Award while her role as an abused wife in 2001's Daman: A Victim of Marital Violence won her the coveted National Film Award for Best Actress. Her next film credits were in Satta, Dobara, and Sandwich. Tandon took a long break from acting, only coming back in 2015 with the movie Bombay Velvet. Radon recently had a starring performance in the film Maatr.
Apart from a healthy diet, the acclaimed Indian actress maintains her fit body by working out consistently. The Raveena Tandon workout routine involves mixing things up. "I always keep changing my form of workout as my body gets immune to any exercise-based activity. I believe in experimenting with my workout," said the actress.
"Some days I go swimming and other days I hit the gym. Since cardio works best for my body, I use the treadmill for an hour. I also like to do Zumba dancing in order to stay fit." She added: "Since, I'm a Punjabi I have a typical tall, broad body, I have experimented with almost every form of workout."