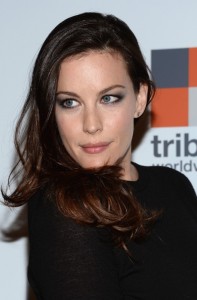 American star Liv Tyler got her fabulous looks from her rockstar dad Steven Tyler and model mom Bebe Buell. With her hard-to-miss beauty, she started a modeling career as she was entering adolescence, but changed her mind after several months and decided she wanted to act instead. So she did in 1994 with a role in Silent Fall, though she was first noticed for her performance in Stealing Beauty (1996). Mainstream success came in 1998 after starring in the smash hit Armageddon. In the early 2000s, she continued charming moviegoers with her role in The Lord of the Rings film trilogy. Subsequent films are Jersey Girl, Reign Over Me, and The Incredible Hulk. She has starred in a couple of films in the 2010s, though she's now focused on acting on television with a main role in The Leftovers.
Standing at 5'10, Liv certainly has a modelesque figure accompanied by her remarkable face. Since beginning her career in the 1990s, the actress has maintained her beauty and figure, and despite motherhood and her nearing her 40s, she still looks fabulously fit and healthy. For one, Liv is feeling confident with her body. When asked about giving birth for the first time, she said: "Pregnancy made me just think "wow" about the female body. It's a huge transformation and things are never quite the same, but you feel proud of your scars." Though motherhood is something that makes any woman lose weight because you're burning a lot of energy, Liv claimed that it wasn't the same for her.
She had to follow a restricted diet because she developed a gestational diabetes as a result of frequently eating. She even revealed that after her first child was born, all she could think and drea, about was eating donuts. Fortunately for Liv, she has David Kirsch, her personal trainer to help her with losing weight. She practiced the regimen called the New York City Diet, which focuses on minimizing calorie consumption. Some of the foods that are not allowed while practicing the said diet are carbs, dairy and alcohol. In addition, instead of eating three times a day, Liv eats five times a day to keep her metabolism going all day so as to burn calories as well.