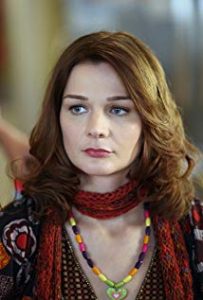 American actress Heather Burns started her Hollywood career in the mid-1990s. She first appeared on the soap opera One Life to Live. In 1998, she made her film debut as Christina in the romantic comedy film You've Got Mail. Her career flourished in the 2000s. During this period, she first had one-time roles on the television shows The Beat, The $treet, and Law & Order: Criminal Intent, among others. She also came to prominence for her role as Cheryl Frasier starring opposite Sandra Bullock in the comedy film Miss Congeniality.
She next starred in the movies Two Weeks Notice, Kill the Poor, and Bewitched. She also reprised her role as Cheryl in the sequel Miss Congeniality 2: Armed and Fabulous. Afterward, Burns starred in the films Brooklyn Lobster, The Groomsmen, and Watching the Detectives. Back on television, she starred as Stella on the short-lived series Twenty Good Years, which aired on NBC between 2006 and 2008.
Her next starring role on television was as Leah on Bored to Death. At the same time, she had performances in the feature films Breaking Upwards and Choke. In the 2010s, she had roles in the movies What's Your Number? and The Fitzgerald Family Christmas. Her latest cinematic roles were in the 2016 films Brave New Jersey and Manchester by the Sea. Her most recent work on the small screen was on Sneaky Pete and Blindspot.
The actress takes care of her body by following a vegetarian diet. Her mornings usually consist of nutritious breakfasts, some of her favorites being pancakes, eggs, and tea. Other times she has granola and soy milk for breakfast. She also drinks orange juice in the morning with her Miracle Red drink mixed in. "I have that every morning. It's an antioxidant super-food supplement. So it's got pomegranate, goji, all kinds of things," shared Burns. For lunch and dinner, she loves organic chili mixed with some brown rice or the vegan meal peeli dal.