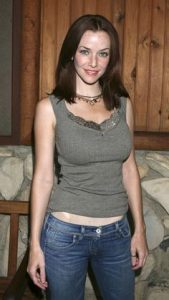 In 2002, actress Annie Wersching had her screen debut on Star Trek: Enterprise. Later, she landed one-time appearances on several television shows, including Birds of Prey, Frasier, Angel, Charmed, Cold Case, and Boston Legal, among others. Ultimately, she ventured into cinema, landing a minor part in the movie Bruce Almighty. Back on TV, she became known for playing the role of Amelia Joffe on General Hospital. Her breakout role was as Renee Walker on the highly popular series 24, co-starring Kiefer Sutherland.
She went on to play one-episode roles on multiple TV shows, such as on CSI: Crime Scene Investigation, NCIS, Hawaii Five-0, Touch, Revolution, and Castle, to name a few. In 2014, she became known for her role as Julia Brasher on the web series Bosch, as well as for playing Femi Dodd on the sci-fi series Extant. Wersching gained wider recognition for her portrayal of Lily Salvatore on The Vampire Diaries, after which she starred as Emma Whitmore on Timeless. In 2017, she started starring as Leslie Dean on the web series Runaways. She's been part of the show's main cast since then.
Annie Wersching stays healthy and strong through proper nutrition and consistent fitness regimen. For her performances on 24 and Timeless, she was able to do her own stunts. This took her intense physical training to improve her strength and agility, which she didn't mind because she enjoys some challenge.
"It's like being a kid in a candy store for me," the actress said about training for her stunts. "I always love when you go on a show and the character or the genre forces you to learn something new."
As for her work on 24, she shared: "With 24, it was a blast getting to do all the stunt work. I trained at Quantico between season 7 and season 8." Normally, her workout routine involves cardio, yoga, and Pilates.