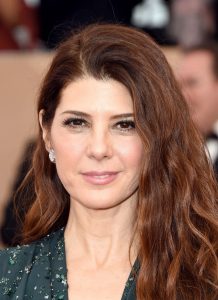 Hollywood star Marisa Tomei had her career beginnings during the '80s. She debuted on television as Marcy Thompson on the soap opera As the World Turns. She later starred as Maggie Lauten on the sitcom Another World. On the big screen, she had her first movie role in 1984's The Flamingo Kid, after which she appeared in the film Playing for Keeps. She got her breakthrough the following decade, starring as Mona Lisa Vito in the film My Cousin Vinny.
For her performance, she won an Academy Award for Best Supporting Actress. At the same time, she portrayed Mabel Normand in the biographical film Chaplin. She next starred in the films Only You, Untamed Heart, Welcome to Sarajevo, and Slums of Beverly Hills. In the 2000s, she had performances in the films What Women Want, King of the Jungle, Anger Management, Alfie, and Wild Hogs. She also played the title role in the 2006 thriller film Danika.
In the 2010s, she had notable roles in the movies Crazy, Stupid, Love, The Ides of March, and The Rewrite. She recently came to prominence again for playing May Parker in Spider-Man: Homecoming. Other latest movies include After Everything, The First Purge, and Dark Was the Night. She also played Mimi Whiteman in 5 episodes of Empire.
The 55-year-old actress stays in shape by sticking to a clean diet. In the morning, she drinks a cup of warm water with lemon instead of coffee to jumpstart cleansing in her body. For breakfast, she prefers a boiled egg with a bit of olive oil. Other times, she has granola with whole-milk yogurt and berries. "I find that protein wakes up my brain and gets me ready for the rest of my day," said the actress. When she's out and about, she always brings with her high-protein snacks.