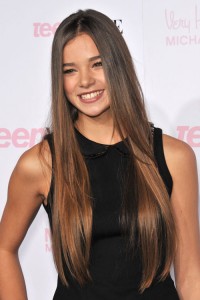 American multi-talented young actress Hailee Steinfeld is busier than ever. Ever since playing Mattie Ross in the acclaimed movie True Grit, for which she was nominated for Best Supporting Actress at the Oscars, Hailee's acting career has been unstoppable. Initially, she began acting when she was about 11. After her performance in True Grit in 2010, she played other notable roles in well-known feature films, including Begin Again and played starring roles in Romeo & Juliet as Juliet Capulet and in Ender's Game, both released in 2013. Most recently, she joined the main cast of Pitch Perfect 2 in 2015 and plays a lead role in Barely Lethal. Her work in Pitch Perfect 2 showcased her singing talent, for which she pursued in real life when she released her debut EP Haiz, with the lead single "Love Myself". In addition, she will star in the upcoming movie Besties.
The 19-year-old has successfully established a career in Hollywood despite her young age. Standing at 5'8, Hailee could be a model, too, considering her long stature and slender physique. That would be so awesome since she's already an actress and a singer. Apparently, the young star doesn't follow any specific diets yet. If you look at her, she's slender but not too thin. Her body is the typical body of a young lady who's still indulging in her favorites.
Amazingly, the actress does not feel the need to undergo any dieting, at least not yet. She's confident of her body and has no desire of losing much weight. She's not obsessed with any fad diets because she loves food as much as she loves her job. However, even though she's not interested in being super skinny, the young star is also aware that she still needs to eat healthy for her general well-being. So, she listens to her body and fills herself with nutritious foods most of the time, such as dark greens vegetables, rice bran, whole-grain cereal, and black tea.