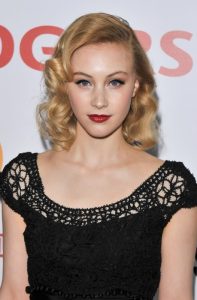 Canadian celebrity Sarah Gadon started performing young when she started her ballet training. In the late '90s, she made her debut on Canadian television with guest roles. In the 2000s, she got more roles on film, as well as on TV. She also worked as a voice actress for a couple of animation shows. During the latter part of the decade she appeared in the films The Cutting Edge: Chasing the Dream and Leslie, My Name Is Evil. She also had a recurring role on The Border and Being Erica. She then gained further recognition for her roles in the films Antiviral, Cosmopolis, Enemy and Belle. She had roles in The Amazing Spider-Man 2, Maps to the Stars and played the female lead in Dracula Untold. She recently starred in the movie The 9th Life of Louis Drax and on the miniseries 11.22.63. Her next upcoming project is Alias Grace.
The 30-year-old actress loves to take care of herself through a healthy lifestyle. Aside from her physically active way of life thanks to her busy career, she also makes sure she eats right most of the time. Now that she's in her 30s, it becomes more important for her to watch what she eats. She does not deprive herself of food as she does not believe in strict dieting, but she believes there has to balance in order to make it work. This way, she gets a healthy body and a overall happier self because she gets to enjoy her food.
Despite her crazy schedule, she tries her best not to skip meals and to mostly stick to nutritious foods. She avoids eating processed foods and when she does eat them occasionally, she only eats a bit. She understands how essential it is to take care of herself by mostly consuming foods that are good not just for the body, but also for the mind. Processed foods, especially the salty ones, usually just make people more tired. She focuses on eating mostly lean proteins, whole grains, fruits and vegetables. She also has her cheat day where she allows herself to indulge her cravings.