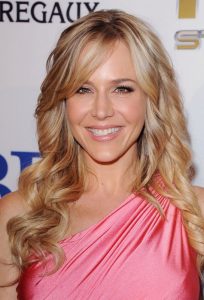 Hollywood actress Julie Benz is a prolific performer both on television and film. Her first main role was as Babs Nielson on the TV series Hi Honey, I'm Home!. She went on to play Darla on Buffy the Vampire Slayer and Angel. She went on to play Joplin Russell on Ask Harriet, Breeze O'Rourke on Payne, and Kathleen Topolsky on Roswell. Her major breakthrough was as Rita Bennett on Dexter. Also in the 2000s, she had roles in the films Kill Your Darlings, Rambo, Saw V and Kill Your Darlings. Afterwards, she starred as Stephanie Powell on the short-lived series No Ordinary Family. She went on to have recurring roles on A Gifted Man and Hawaii Five-0. She also went to have a regular role on the short-lived series Defiance.
The 45-year-old actress remains slim and fit thanks to her healthy eating habits. Julie makes sure this happens by following proper nutrition. For her, eating right also guarantees not only a slender figure, but also a toned one. She said: "My job requires me to look good. And I'm doing exactly that, in a healthy way." From day to night, she makes sure her foods are filled with nutrition. In the morning, she usually has coffee, fiber one cereal, yogurt, egg, veggie burrito plus fruit.
For lunch, she has tuna fish with brown rice, avocado with a squeeze of lime, cooked broccoli plus water with lemon. For her afternoon snacks, she typically has fruit plus nut bar of almond and apricot. For dinner, she eats Persian chicken with salad, a glass of Pinot Grigio. She also opts to have dessert at night, which usually consists a cup of chocolate chip mint tea. Not only does she observe healthy eating habits, she also makes sure she is physically active, which she does by performing exercises.