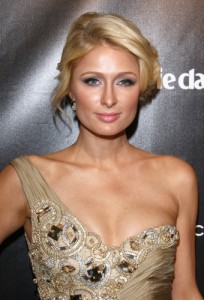 American socialite Paris Hilton has had her fair share of notoriety, thanks to her personal life. Being the celebrity that she is, she took advantage of her fame an embarked on an acting and singing career. Her first role was in a movie that was released straight to video in 2002. She has also had a couple of cameos around the same time. Her first successful work on the screen was in the reality show The Simple Life, which she appeared in from 2003 to 2007, airing for five seasons. Simultaneously, she played one-episode roles on a couple of other TV shows and starred in a number of movies, most notably in House of Wax in 2005. From this time, she ventured into other reality show projects, including Paris Hilton's My New BFF and The World According to Paris. Before the decade ends, she had another lead role in the comedy feature The Hottie and the Nottie in 2008. In addition to her movie and television credits, Paris also launched a musical career with her debut album, Paris, in 2006. The lead song, "Stars Are Blind", was a moderate hit.
Even before her television and movie appearances, Paris was already famous for being wealthy (her net worth as of 2013 is estimated to be around $100 million), thus, making her a socialite. It also helps that she's physical attractive. Standing at 5'8, the celebrity is also well-known for her slender figure, which she has since maintained ever since. Now that she's in her 30s (35 to be exact), the star is surely being more careful about her diet since her metabolism has slowed down a bit brought by ageing. Interestingly, it has been reported before that Paris takes drugs to help her lose weight.
This drug called Adderall is known to be a drug craze among celebrities because of its quick effect when it comes to shedding some pounds. This keeps one awake while killing the appetite. It was also reported that she was witnessed dining in a restaurant without ordering anything but water, which means she also practices fasting as her form of diet to easily lose weight. Most can argue that these practices are unhealthy, but for some stars, staying slim is more important. If these reports happened to be true, it is also possible that Paris has already decided to change her ways now that she's older.