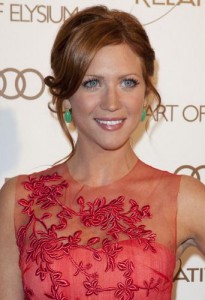 American actress-singer Brittany Snow began her acting career in a soap opera when she was around 12, a stint she did for almost four years. After this, she landed a main role on the primetime series American Dreams, which ran for three seasons. She was around 19 when the show concluded in 2005. Subsequently, she made her movie debut in The Pacifier. Her career took off around this time, playing starring roles in relatively well-known films, such as John Tucker Must Die and Hairspray. She then played the lead in the slasher movie Prom Night released in 2008. She continued starring in a couple of other movies before the decade ends. In 2011, she returned to television with Harry's Law, which ran for two seasons. She became further prominent for her starring role in the successful Pitch Perfect and Pitch Perfect 2, released in 2012 and 2015, respectively.
Standing at 5'4, the 30-year-old actress maintains her youthful glow through a healthy lifestyle. No wonder she could easily pull off playing high school and college roles despite being realistically older than those characters. Aside from doing intense workouts like boxing or lifting weights, Brittany maintains her sexy and slender figure by making sure her body gets nothing but nutritious foods while making sure everything else is balanced, meaning she also digs in to her cravings. As they all say, eating is not only nutritional, it's also mental.
In an interview, she admitted that she was into diets before than she is now. Now, she tries to do things that are semi-good for her. She talked about her experience with juice cleansing and although that was horrible for her, she knew it had its benefits. While she tries her best to eat healthy most of the time, she reveals she finds eating unhealthy foods very enjoyable, like eating a bag of tortilla chips and guacamole all by herself. When asked about her favorite snacks, she answered fruits and frozen yogurt.