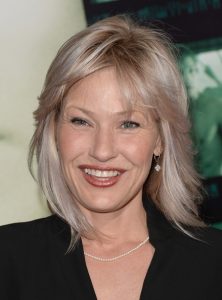 Hollywood actress Joey Lauren Adams had her career beginnings in the early 1990s. She debuted as Mona Mullins in the Fox sitcom Top of the Heap. She later reprised her role in the spin-off Vinnie & Bobby. In 1993, she made her big screen debut in the film Coneheads. That same year, she had roles in the movies Dazed and Confused and The Program. In 1995, she played Gwen Turner in Kevin Smith's Mallrats. She collaborated with Smith again — starring as Alyssa Jones in the movie Chasing Amy opposite Ben Affleck.
For her performance, she was nominated for a Golden Globe for Best Actress. She next starred as Layla Maloney in the comedy film Big Daddy. In the 2000s, she had performances in the films Bruno, Beautiful, Harvard Man, Grand Champion, and The Big Empty. She reprised her role Alyssa Jones in Jay and Silent Bob Strike Back. Subsequently, Adams had roles in the movies The Break-Up, Bunny Whipped, Trucker, and ExTerminators.
In 2010, she played Pammy in 10 episodes of United States of Tara. Next, she played recurring role Jeniece Papagus in Switched at Birth. Her most recent work on TV was as Debbie Lynn Cooke in the sitcom Still the King. Back in movies, she made notable performances in Endure, Apart, Art Machine, Blue Caprice, Sequoia, and Animal. She will reprise her role Alyssa Jones in the upcoming film Jay and Silent Bob Reboot.
The actress is more mindful of her food choices now that she's in her 50s. Mostly, it's a plant-based diet for her. She gets her protein from lean meat and cleanses by drinking fresh juices. She doesn't follow a specific diet — she just makes sure she doesn't have too many processed foods. It's all about moderation for her. She also eats eggs everyday for its protein. "I eat a lot of egg sandwiches with mayo. Probably one a day," said Adams.