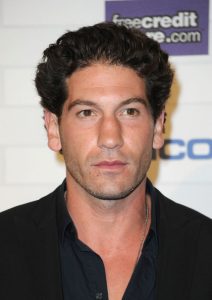 Jon Bernthal was already in his mid 20s when he started his professional career on the screen. During his initial years, he made guest appearances on Law & Order: Criminal Intent, Without a Trace, Dr. Vegas, and Boston Legal. In the movies, he started almost at the same time as he did on television, but it was in 2006 that he first landed a notable role in the movie World Trade Center. He has since appeared in other well-known films like Night at the Museum: Battle of the Smithsonian. Back on TV, his first regular role was on the short-lived show The Class, then on Eastwick before landing the part of Shane Walsh on The Walking Dead, being a main cast up to the end of the second season when his character was killed off. Now, he's known for playing Frank Castle / Punisher on Daredevil.
Jon was already in his 30s when he basically became widely known among international audiences. That makes him one of the few actors who still managed to get their break a little bit late. Why wouldn't he? He has such a strong presence on screen combined with his amazing acting chops. Also noticeable is his lean physique making him more tough and masculine looking. Great thing about this is that he's not really engaged into any special or specific workout routine or diet plan.
He only engages himself in normal workout routine at home or in the gym. Even when he's playing as the Punisher on television now, he's not pressured to maintain or improve his physicality. Probably because he already looks his best. When it comes to his eating habits, he tries his best to eat healthy. He focuses on just eating nutritious and clean food. Nothing special about his diet plan. The actor even joked that he's a lame eater when he's eating healthy because he mostly has grilled chicken breast and cucumbers.