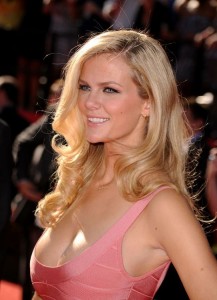 American fashion model turned actress Brooklyn Decker is now successful in both industries, something that can only be achieved by those highly beautiful and talented ones, just like her. Her most prominent work as a model was a cover feature on Sports Illustrated Swimsuit Issue in 2010, though she's had television guest roles before that. She finally made her cinematic debut in 2011 with the movie Just Go with It. It didn't take long before she got another acting gig, this time a more significant part in Battleship and then in What to Expect When You're Expecting both released in 2012. She took a break for a year or two and returned in 2014 with the short-lived sitcom Friends with Better Lives. Afterwards, she landed another starring role on the television series Grace and Frankie. Her most recent roles on the big screen were in Results and Lovesong, released in 2015 and 2016, respectively.
Standing at 5'9 and with an undeniably rocking body, Brooklyn never fails to catch attention. Despite looking mature because of her long stature and curvaceous figure, the model-actress is actually just in her late 20s. Despite being young, she doesn't go too complacent with her health habits. She also has a very busy schedule with her modeling and acting gigs, and of course being a married woman, but she allots time to work out to ensure that she not only maintains her sexiness, but also her health and fitness.
When it comes to eating, Brooklyn is very health conscious and abides by her discipline to focus on what she should eat rather than what she shouldn't. She doesn't think about foods that she knows are fatty and sugary. "By not obsessing over the bad, I tend to stick with the good", she said in an interview. For breakfast, she usually has Greek yogurt mixed with blueberries with only 2% fat. For lunch, she eats an egg-white sandwich on an English muffin with goat cheese and mustard, or soup and a salad. For dinner, she has lean meat or tuna with veggies. In between meals, she snacks on almonds or cashews, hummus and pita, a granola bar, or raw veggies.