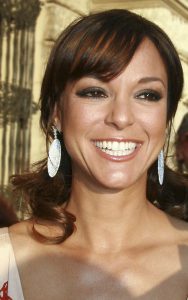 Hollywood star Eva LaRue had her career beginnings when she first appeared in the 1987 film The Barbarians. The following year, she made her TV debut as Margot Collins in the soap opera Santa Barbara. She next had one-time roles in Charles in Charge, Perfect Strangers, and Freddy's Nightmares, as well as appeared in the movie Dangerous Curves. During the '90s, she had performances in the films Heart Condition, Crash and Burn, Ghoulies III: Ghoulies Go to College, RoboCop 3, and Mirror Images II.
She also became known for her role as Dr. Maria Santos Grey in the soap opera All My Children. The following decade, she gained wider recognition for her recurring roles, like the role of Brooke in Third Watch, Josefina Alicante in Soul Food, and Linda Lorenzo in George Lopez. Her most prominent role, however, was as Natalia Boa Vista in CSI: Miami. She also returned as Dr. Maria Santos Grey in All My Children during this period. After CSI: Miami ended in 2012, she had guest performances in Criminal Minds and Fuller House. She also appeared as herself in the TV program Hell's Kitchen.
Already in her 50s, the actress stays strong and healthy by choosing her foods right. In an interview years ago, she talked about the importance of a balanced diet in her life. "The right diet is everything, and lately I've really noticed how big of a role it plays in my overall health and well-being. Having a balanced diet helps me have more energy during the day so I can keep up with my busy schedule," said the actress.
She also shared about what motivated her to eat healthier. "I recently had a food allergy test taken, and I realized I was eating a lot of foods that weren't beneficial for my body. Now I try to only eat foods that are in my neutral and beneficial zones," she shared. "I start eating more fish and vegetables and cut out wheat, rice, and cheese."