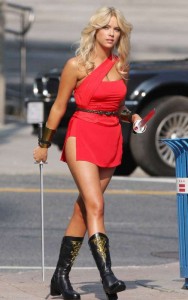 Irresistible actress Ashley Benson is getting noticed more significantly as a young star in Hollywood. Starting her career on television in the early 2000s, she got her first major role in a soap opera and became part of that show for a couple of years. After the said stint, she returned to playing guest roles in several television shows until landing another regular role in Eastwick. She has also started a career on the cinema though her first memorable role was in the direct-to-DVD film Bring It On: In It to Win It released in 2007.
Her major success only came in 2010 after joining the main cast of Pretty Little Liars. The show was an instant success, especially among teenage audiences and since it has been airing on television for several years, it brought Ashley a great deal of prominence. She still plays the said character up to present. Her performance in the 2013 indie movie Spring Breakers also attracted attention. She recently starred in Pixels (2015), which was a box office hit.
Standing at about 5'3, the 26-year-old actress definitely knows how to grab attention. With her classic blonde beauty and curvaceous figure, the actress has proven herself to be a star in her own right. Amazingly, Ashley is fond of working out as a way to keep herself fit and healthy. It can be noted that she often goes to the gym to work out. In addition, she enjoys doing Pilates, kickboxing, and practicing bar method. Such workouts are known to help one achieve muscle strength and enhance one's overall body function.
Pilates, more particularly, is a great way to lose weight. Doing a 50-minute beginner Pilates workout would able you to lose about 175 calories. How much more if you engage in a Pilates advanced workout? As for kickboxing, an hour of doing it can significantly enhance one's arms, shoulders, hips, thighs, and abs. Bar method, on the other hand, makes her workout sessions more exciting. This method is a combination of ballet moves, yoga, Pilates, and weight training for a duration of an hour.