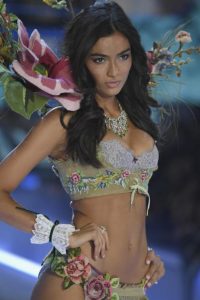 Swedish-Aussie Kelly Gale is an internationally known model. She was only 13 when she was discovered as a model. A year later, she began her professional work. Her first work was appearing in ad campaigns for H&M. Ultimately in the 2010s, her modeling career took off. She landed work walking at a huge fashion show for Chanel in 2012. The following year, she made her Victoria's Secret debut at the Victoria's Secret Fashion Show. She has since walked the show since then.
She has also walked the runway for other fashion brands like or Azzedine Alaia, Chanel, Monique Lhuillier, Tommy Hilfiger, Band of Outsiders, Narciso Rodriguez and many others. On print, she has been featured on multiple magazines such as Teen Vogue and ELLE. In 2016, she appeared on Playboy and became Playmate of the Month for the September 2016 issue. She has also been featured on Sports Illustrated Swimsuit Issue. On the screen, she was featured in the music video of Enrique Iglesias' Duele el Corazón.
Being a model, Gale takes care of her body by being mindful of her food choices. As a general rule, she stays away from processed foods most of the time. Not only does she want to look good but she also wants to feel great from the inside out. "I eat a lot of egg whites, a lot of seafood and chicken and turkey and a lot of vegetables and then I make sure to get vitamins and antioxidants from berries and spirulina," said the model.
When it comes to her indulgences, she says it's dark chocolate. "I eat dark chocolate every single day," she says. "It's my favourite thing in the world and I can't stay away from it. Obviously, there are better kinds and there are worse kinds. In New York, LA, it's pretty easy to get raw, vegan chocolate," she added.