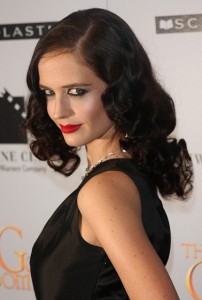 French actress Eva Green began her career in a controversial light with a starring role in The Dreamers released in 2003. She was also noted not just by her excellent debut in the movie but also for her extensive nudity. A few years later, she achieved wider recognition after landing a significant role in Kingdom of Heaven. Mainstream success continued upon securing the female lead in the international smash hit Casino Royale (2006). Since then, she went on to play starring roles in The Golden Compass, Dark Shadows, 300: Rise of an Empire, and most recently in Sin City: A Dame to Kill For. Eva also ventured into television, first acting in Camelot and now starring in Penny Dreadful.
Standing at 5'6, the 35-year-old actress is notably attractive for her ferocious face and curvaceous body. This combination has mostly assigned her to portray strong, powerful and sometimes dark female characters. Because she has been in a lot of action-oriented films, rigorous workouts are not something new for the actress. Interestingly, Eva wasn't as health conscious before as she is now. She used to eat whatever she wanted before, without thinking about the harmful effects on her body.
Her job as an actress taught her to be more cautious of the food she eats as being in the industry requires her to be strong and fit, something that she couldn't achieve if she kept on eating unhealthy foods. Thus, she made some diet changes. In the present, she eats moderately and usually has green veggies, chicken, salmon, and fruits incorporated in her typical everyday diet. In the morning, she starts her day by drinking warm water as this is really effective when it comes to cleansing her body. The rest of the day is all about eating healthy foods such as the ones mentioned to keep her strength.