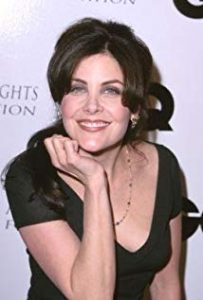 It was in 1984 that actress Sherilyn Fenn with her debut in the film The Wild Life. That same year, she had her first TV appearance in the made-for-television movie Silence of the Heart. She later had roles in the films Out of Control, Just One of the Guys, Thrashin', The Wraith, Zombie High, Two Moon Junction, Crime Zone, and True Blood. In the 1990s, Fenn gained mainstream recognition for some of her roles on the big screen and television.
Her breakthrough character was as Audrey Horne in David Lynch's TV series Twin Peaks. For her performance, she earned Primetime Emmy and Golden Globe nominations for Best Supporting Actress. After this, she had performances in the films Desire and Hell at Sunset Motel, Diary of a Hitman, Ruby, Boxing Helena, Fatal Instinct, and The Shadow Men, among others. From 1998 to 2001, Fenn starred as Billie Frank in the Showtime sitcom Rude Awakening.
Following this, the actress had roles in the films Cement, Swindle, The United States of Leland, Novel Romance, Treasure Raiders, Fist of the Warrior, and The Scenesters. She also had recurring roles on TV, playing Violet Montgomery in Boston Public and Anna Nardini in Gilmore Girls. Later in 2014, she played Donna Cochran in Ray Donovan, followed by her role as Queenie Schlott in Shameless. In 2017, she reprised her role as Audrey Horne in the continuation of Twin Peaks. She now has a recurring character as Karen Street in the CBS series S.W.A.T.
Apart from living an active lifestyle, Sherilyn Fenn maintains her fit body by eating well. To feel good from the inside out, the Twin Peaks actress adds more fruits and veggies into her diet, as well as avoids sugary, salty, and oily foods. She's also cut back on red meat. Instead, she gets proteins from healthier options like fish and chicken.