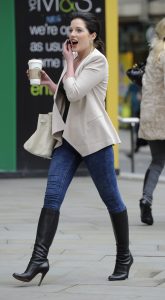 English actress Helen Flanagan got her start in the early 2000s. She made her debut with a starring role as Rosie Webster in the ITV soap opera Coronation Street. She left the show in 2012 but has since returned and reprised her role in 2017. She continues to star in the show up to present.
Simultaneously, she has also appeared in some reality shows. This includes Soapstar Superstar and I'm a Celebrity…Get Me Out of Here!, among others. She reprised her role as Rosie in the spin-offs Coronation Street: A Knights Tale and Just Rosie. Aside from her appearances in many reality programs, she had also acted with a guest appearance in an episode of Holby City.
The English beauty, aside from her works on television, is also known for her voluptuous body. But instead of changing herself to be thinner, she accepts her figure the way it is. Although she also admits that it wasn't always the case. "When I was younger I was completely obsessed with dieting – this diet, that diet – and now I look back and think I was really stupid, I lost far too much weight and got really obsessed with it," she said.
She ultimately stopped dieting. As she had best put it, "there's more to life than worrying about your weight". For one, it's hard for her to resist her favorites, some of which are "takeaway Nando's or cheese". She said: "I really can't think that every single night I can only eat fish, veg, and potatoes. That would be boring."
So, what's the actress diet plan like? She revealed: "Breakfast is usually a Starbucks' Hazelnut latte and a skinny muffin, lunch is probably a roast chicken wrap and dinner will be a Nando's or I might cook pasta. I snack on sweets for the sugar because I'm always running around – I love jelly babies or jellied snakes."