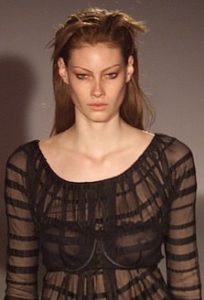 Australian beauty Alyssa Sutherland first worked as a model during the '90s prior to starting an acting career. When she did, she made her debut playing a small role in the Hollywood film The Devil Wears Prada. She also appeared as a model in the movie Day on Fire. In 2008, she had her first television appearance in an episode of the show New Amsterdam. She also acted in a pilot that wasn't picked up.
Continuing her Hollywood career in the 2010s, she guest-starred in an episode of Law & Order: Special Victims Unit. She made her breakthrough after landing the role of Aslaug on the History Channel series Vikings. She played the said role from 2013 to 2016. While on the show, she appeared in an episode of Australia's Next Top Model. After her stint with Vikings had ended, she joined the main cast of The Mist as Eve Copeland. It was, however, canceled after one season. Her latest work on television was her portrayal of Hedy Lamarr in an episode of the NBC series Timeless.
The 36-year-old actress stays in shape without following any fad diets. As a matter of fact, she claims she doesn't diet at all. She loves food and eats whatever she wants — even fast food. "I'm not into fad diets, I'm not into depriving. I like fast food and I like chocolate," the actress said. She also said she loves McDonald's and double cheeseburger is one of her favorites. When she has cravings, she goes for it as that makes her feel happy. Nonetheless, she also understands the importance of moderation. While she eats whatever she wants, she doesn't overindulge. She eats moderately and practices portion control most of the time. Of course, she also eats healthily with lean proteins, whole grains, and fruits and veggies as some of her food staples.