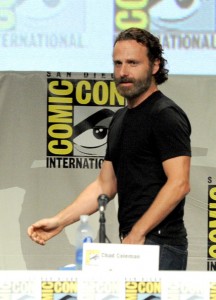 English actor Andrew Lincoln actually started acting in the mid 1990s in the UK and was first recognized for his starring role in the BBC drama This Life (1996-1997). He next played the lead in another UK show Teachers in the early 2000s, followed by Afterlife in the mid 2000s. With this, he's basically acted on British television in the most part of his acting career before getting internationally known as Rick Grimes in The Walking Dead. As a movie star, he was first noticed for his role in the British ensemble Love Actually released in 2003. Before starring in The Walking Dead, he's had roles in the French feature Heartbreaker and the British film Made in Dagenham.
How to stay fit and look good at the same time while slaying zombies? Ask Andrew Lincoln! Not only did his lose his original accent to play Rick Grimes's southern tone in The Walking Dead, Andrew also underwent immense physical training to play his role more efficiently, which he has done extraordinarily thus far, making him one of television's most popular characters today. Basically, Andrew combines different kinds of training with his love for running as the main ingredient.
Of course, speaking of running, the actor does long distance running to keep his endurance at play for long The Waling Dead work days. Basically, that what he does on the show, running, fighting, and kicking ass. In an interview with Men's Health, he even ran a marathon with his mom. Because he prefers outdoor activities accompanied by his hobbies, he's not really fond of working out in a gym, but with his prominent role, he trains using free weights performing compound movements to ensure visible physical results. By doing this, he increases his muscle mass while making sure that it's being balanced by his long distance runs.