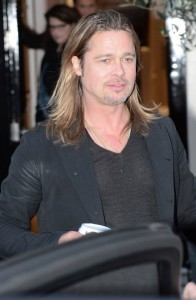 Notable Hollywood actor Brad Pitt is one of the most recognizable performers in the world. With a career spanning of decades with his good looks as part of his acting package, it is no wonder when men and women alike want to know how the actor maintains his body and stays fit and healthy. First getting notice in the early 1990s for his role in Thelma & Louise, his major roles came a few years later with his dramatic performances in A River Runs Through It and Legends of the Fall.
In the couple of years to come, he proved to be a top-caliber actor for his roles in 12 Monkeys and Seven, followed by the internationally successful film Ocean's Eleven. Brad has lots and lots of films, from action films to epic features as well as dramas, but his biggest hits thus far are Troy, Mr. and Mrs. Smith and World War Z. Being in the show business a long time, Brad has also ventured into producing, investing into such films as The Departed and 12 Years a Slave, both winning an Oscar for Best Picture.
Even in his 50s, Brad still looks fit, something that he achieves through practicing a healthy lifestyle. Since he's played several different roles on the big screen, physical training is not something new for the actor, that's for sure. Some of his roles that required him rigorous training were in Fight Club and Troy. For the former, Brad did high reps and eating lots of protein. Normally, the actor does 3 sets of each exercise, 15 reps each time. He then makes it a point that he gets rest for about 60 seconds for each set. Of course, he uses weights that makes it possible to complete at least 15 reps. When he finds the 15 reps too easy, he decides to use the next heavier weight for his following set. Some of the routines he usually does are Pushups, Bench Presses, Incline Chest Presses, and Machine Cable Flys, among others.