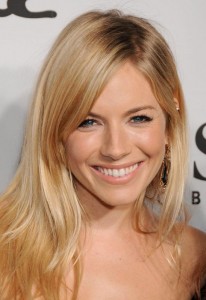 American-British actress Sienna Miller started acting in the early 2000s and after only a few films, she got her break in 2004 with the films Layer Cake and Alfie. Subsequently, her starring roles in Casanova, Camille and Stardust made her one of the most recognizable actresses in Hollywood. In addition, she notably portrayed underground film star and socialite Edie Sedgwick in the 2006 bio film Factory Girl. In 2009, she played The Baroness in G.I. Joe: The Rise of Cobra. After taking a few years off from acting, Sienna returned to the screen in 2012 with a couple of movies and went on to star in the critically acclaimed features Foxcatcher and American Sniper, both released in 2014.
The 34-year-old star is not only known for her performances in multiple well-known films, she's also widely noted for her high-profile relationship with actor Jude Law in the past. Her being fashion icon also made her a familiar name. Being in the movie industry for more than a decade, Sienna has maintained her slim figure since she started out in the business. Interestingly, the actress claims that she's not fond of exercising and doesn't even go to the gym, though she's fond of yoga. But other than that, nothing.
This somehow surprised her fans. She can be naturally slim and sexy but it's amazing how she does nothing to maintain her slender physique. Also, Sienna claims she doesn't follow any diet plans and eats whatever she wants without gaining weight. In an interview a couple of years ago, she said: "I don't really exercise and I eat all the burgers I want." She also said she's really into fatty and sugary foods and she even described herself as a big eater but she just naturally doesn't put on weight. Of course, Sienna knows that her eating habits will take its toll eventually but that she would remain to adore eggs, bacon, and waffles!