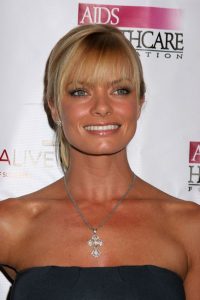 Hollywood celebrity Jaime Pressly got her acting start in the late 1990s. During her initial years, she had roles in the films Poison Ivy: The New Seduction, Can't Hardly Wait and Inferno. She was then noticed for starring in the feature film Not Another Teen Movie. Her first main role was on the TV series Jack & Jill. She then became known for playing Joy Turner on the TV series My Name Is Earl. During this period, she starred as Tina Armstrong in the movie DOA: Dead or Alive. For her role, she won a Primetime Emmy Award for Outstanding Supporting Actress – Comedy Series. In 2014, she played the title role on the short lived series Jennifer Falls. She also currently stars as Jill Kendall on the sitcom Mom.
She may be in her 40s, but the actress surely remains slender. Throughout the years she's able to maintain her toned figure. The My Name is Earl star shared that really does work hard. Through this and the discipline to follow a healthy lifestyle, she's been able to sustain a healthy physique. In an interview, she said: "I've always exercised really hard. I'm into the no pain, no gain thing." Even after giving birth, the actress was able to shed pounds and return to her sexy and slim body.
She shared that she gained 42 pounds after giving birth, but that she had set a fitness plan to regain her body. She said: "I needed to get in the gym and run on the treadmill and lift weights." Jaime also said that she's not into looking very thin and she's not interested to be a size 0. She admitted: "Sure, I wanted to lose my baby weight, but I didn't want to lose my butt. I think it's sexy when women have shapely bodies." The actress also doesn't stick to the same routines. For this reason, that's why her trainer always changes her routine to avoid boredom.