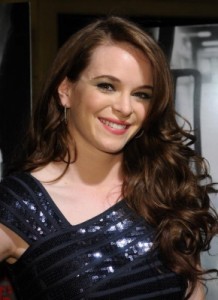 American actress Danielle Panabaker is surely a combination of beauty and talent. Beginning her career when she was 15, she began acting on television, acting on various TV shows in one-episode roles. She eventually gained recognition for her roles in a couple of TV movies, particularly in Disney's Stuck in the Suburbs in 2004, then in another Disney TV movie Read It and Weep in 2006. She has also acted in some Lifetime TV films such as in Sex and the Single Mom and Mom at Sixteen. Diverting her attention to television series, she first starred in the miniseries Empire Falls before landing a main role in Shark, the latter of which ran from 2006 to 2008. Before securing her now lead role in The Flash, she previously played recurring roles in Necessary Roughness and Justified. In the movies, she's best known for roles in Friday the 13th and Piranha 3DD.
Standing at 5'6, the 28-year-old star has a slender figure that makes her overall look so appealing. Because she began her career during her teens, she became aware of the importance of healthy eating earlier. Though she still indulges in her cravings from time to time, she makes sure practices portion control and still applies a balanced diet to manage not only her weight but her health in general.
So far her eating habits haven't given her any problems. She stays slim and fit, plus she has sufficient energy to play her role in The Flash more efficiently. This is because she has enough proteins by eating fish and beans regularly. She loves meat but keeps it healthy by having vegetable sausage instead, which not only helps her stay slim but also radiant and energetic, something that helps her work for long hours. In addition, she likes cottage cheese, kelps and mushroom. She also snacks on sweet potatoes.