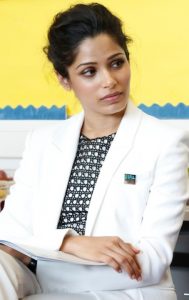 Freida Pinto's career started in 2006, hosting the Indian talk show Full Circle. Shortly after, she had her breakout role as Latika in Danny Boyle's 2008 film Slumdog Millionaire. For her performance, she was nominated for the Best Supporting Actress at the BAFTA Awards. Her role in the film also earned her several Teen Choice and MTV nominations.
After this, she starred in Woody Allen's You Will Meet a Tall Dark Stranger. She also played the title role in the 2010 movie Miral. She continued landing roles in Hollywood, starring in such films as Rise of the Planet of the Apes, Trishna, Day of the Falcon, Immortals, Girl Rising, Desert Dancer, Blunt Force Trauma, and Knight of Cups. Afterward, she appeared as herself in an episode of The Mindy Project.
She also hosted India: Nature's Wonderland. In 2017, she starred as the lead in the miniseries Guerrilla, after which she played recurring character Vera in Hulu's The Path. Back in the movies, she starred in Love Sonia and played Messua in 2018's Mowgli: Legend of the Jungle. She'll star in the upcoming science fiction film Needle in a Timestack, as well as in Ron Howard's upcoming project Hillbilly Elegy.
Freida Pinto maintains a healthy body by eating clean and staying active. For her workout routine, the Slumdog Millionaire actress combines cardio, Pilates, TRX, and freestyle dancing to keep her body fit and healthy. In addition, she performs several stretching exercises as well.
Yoga is also one of the actress' go-to exercises. "I practice yoga and once in awhile I feel like I need to change it up, so I go to the gym and listen to Justin Bieber really loud and work out," said Pinto. Being a full-time actress is also a workout on its own, mainly due to the on-the-go lifestyle that comes with it. She also runs as regularly as she could, plus she walks a lot when doing errands.