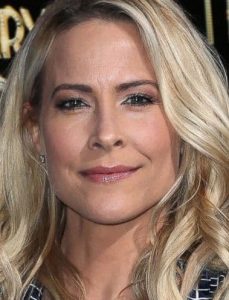 Brittany Daniel's breakthrough role was as Jessica "Jess" Wakefield in the comedy-drama series Sweet Valley High. She starred in the TV series from 1994 to 1997, which gained her mainstream recognition. Prior to this, she already starred as Mila Rosnovsky in the teen drama series Swans Crossing. During this period, she had her first movie role in The Basketball Diaries. After Sweet Valley High ended, she landed the recurring part of Eve Whitman in Dawson's Creek.
In the 2000s, she had roles in the TV films On Hostile Ground, 111 Gramercy Park, Totally Awesome, and Community Service. Daniel also landed several roles on the big screen, such as in the movies Joe Dirt, Club Dread, Dirty, and Rampage: The Hillside Strangler Murders. Also, she played Megan Vandergeld in the blockbuster comedy film White Chicks. The actress continued her cinematic career with the movies Little Man, The Hamiltons, Loveless in Los Angeles, and Skyline.
Back on TV, she also played Carmen the transexual in 4 episodes of It's Always Sunny in Philadelphia. From 2006 to 2011, she became further recognized for her role as Kelly Pitts in the television series The Game. She was part of the main cast from seasons 1-3 and a recurring character afterward. Her latest role was in 3 episodes of the sitcom Blackish. On the big screen, her latest movie role was in 2015's Joe Dirt 2: Beautiful Loser.
Apart from a healthy diet plan, Brittany Daniel maintains her fit body through regular workout routine. One of her go-to workouts is spinning. Her work as an actress also encourages her to exercise regularly. "Just last week my character wore a French maid's outfit. That's inspiration enough to get to the gym five times a week!" said Daniel. For her other fitness routine, she said: "Group cycling is the perfect workout for me right now. To get through a class, I really have to dig deep and say to myself, 'I can do this!'"