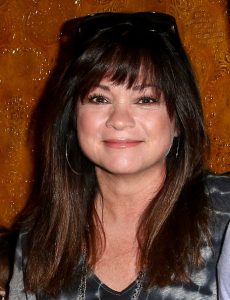 Hollywood star Valerie Bertinelli got her start in the '70s, debuting in the drama series Apple's Way. Afterward, she landed the role of Barbara Cooper Royer in the CBS sitcom One Day at a Time. For her role, she won a Golden Globe for Best Supporting Actress twice. She starred on the show from 1975–1984, gaining her recognition. In 1979, she made her cinematic debut in the film C.H.O.M.P.S. During the '80s, she also had performances in such TV films as The Promise of Love and The Princess and the Cabbie, to name a few. She went on to appear in the film Number One with a Bullet.
The '90s began for her with a lead role in the short-lived series Sydney where she played the titular character. Following this, she starred as Holly Aldridge in the NBC sitcom Café Americain. She went on to star in a couple of TV films after that. In the 2000s, she starred as Gloria in the CBS series Touched by an Angel, after which she had performances in the TV movies Finding John Christmas and True Confessions of a Hollywood Starlet. From 2010-2015, she became known for her role as Melanie Moretti in the sitcom Hot in Cleveland. More recently, she's hosting the TV show Valerie's Home Cooking. She also appears as the host/judge on Kids Baking Championship.
The actress has struggled with her weight in recent times. After finally shedding pounds and achieving a healthy figure, she intends to keep it that way. Before, she confessed to having a really bad eating habit, but she has since replaced that with a cleaner diet plan. "I don't want to gain those 40 pounds back again," said the actress. She recounted how bad her eating choices were: "I would get home from work and drink vodka with cranberry juice and eat jalapeño cheese poppers. I did that for months, and I think it was all about punishing myself. A jalapeño popper never solved my problems, not once."
Now, whenever she feels the urge to eat unhealthily, she said she just drinks another glass of water. Every time she feels tempted to binge, she goes for a drive, takes a walk or goes for a run. She believes physical activity can help reduce her cravings. Nonetheless, she doesn't deny herself of food. She just watches how much she eats. "Portion control is the key," said Bertinelli.