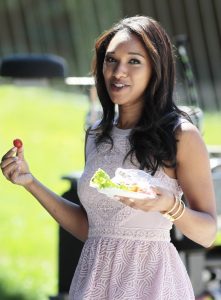 American actress Candice Patton is now a television household name, thanks to her starring role in the hit series The Flash. Initially, she began acting when she was in her mid teens performing in a soap opera, followed by more roles on other soaps. She eventually had roles in primetime television shows such as in Heroes, Entourage, and One Tree Hill. Persistent in her passion and working hard to get recognized for her talent as an actress, she made her movie debut in a made-for-television film called The Craigslist Killer in 2011 while her big screen debut was in The Guest released in 2014. Prior to this, she played a recurring character in the long-running series The Game. Her present stint, as mentioned, is The Flash.
Fans can attest to the fact that Candice is very sexy and fit, which makes her more attractive. In Hollywood, a combination of sex appeal and talent gives anyone a great advantage. This is certainly the case for the young star, who is now popular for her incredible presence in The Flash. She basically achieves this through healthy eating. In an interview, she said generally stays away from unhealthy foods and unnecessary eating. She obtains it by getting only healthy food from craft services.
Her regular favorite is a veggie plate consisting of cucumbers, grape tomatoes, bell peppers, carrots, snap peas, avocado and hummus. She believes eating veggies and organic foods not only makes her look good, but also feels good, something that's essential in her work as an actress where one has to take care of their health and appearance at the same time. Having veggies and fruits for meals and snacks keeps her all filled up and helps her stay away from something like cinnamon, which she wants but doesn't need. In addition, she likes eating carrots and snap peas. She considers these as her go-to snacks.