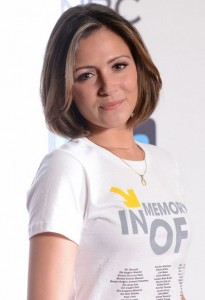 Canadian star Italia Ricci began acting when she was already in her 20s, though her debut was in the American direct-to-video movie American Pie Presents: Beta House in 2007. This was followed by a low-budget indie movie. Her first significant role was on television when she landed a recurring character in the Canadian show Aaron Stone in 2009. Subsequent work was mainly on the small screen, plus another recurring role in the American series Secret Girlfriend. Her first main role on the small screen was in Unnatural History though it was cancelled after a season. After this, she once again tried her luck on cinema and got a role in the well-received feature film Don Jon in 2013. Further success came to her when chosen for the lead role in Chasing Life, though it only lasted two seasons. Her most recent acting stint is in Supergirl, starting to appear in it in 2016.
Standing at 5'6, the 29-year-old actress is not only well-recognized for her pretty face but also for her slender physique. She's thin but she doesn't look unhealthy, which is something that can be achieved through healthy diet and exercise. While she's blessed with great genes contributing to her beauty, Italia doesn't become complacent and so exerts an effort to take care of herself in the best way she can. Aside from working out to maintain a toned figure and achieve incredible fitness, she eats healthy food, of course.
It isn't known when the actress began being health conscious. Normally, people don't really begin being careful until they become mature in their minds and their bodies. Italia was probably the same, indulging herself in fascinating yet unhealthy food like pizza and fries during her younger years. But she knows better now. She now recognizes the important of consuming nutritious foods to keep her healthy and beautiful at the same time. With this, she's particularly fond of eating sardines, vegetable sausage, and incorporates parmesan and onions into her meals.